A fellow Navy Seal who knew and trained with Mike Monsoor said that he had already earned a Silver Star for Bravery and a Bronze Star for separate acts of valor.
On April 8, 2008, Mike Monsoor was awarded the Medal of Honor posthumously officiated by President George W. Bush in a ceremony at the White House.  The text of his citation reads:
For service as set forth in the following CITATION:
For conspicuous gallantry and intrepidity at the risk of his life above and beyond the call of duty as automatic weapons gunner for Naval Special Warfare Task Group Arabian Peninsula, in support of Operation Iraqi Freedom on 29 September 2006. As a member of a combined Seal and Iraqi Army Sniper Overwatch Element, tasked with providing early warning and stand-off protection from a rooftop in an insurgent held sector of Ar Ramadi, Iraq, Petty Officer Monsoor distinguished himself by his exceptional bravery in the face of grave danger. In the early morning, insurgents prepared to execute a
coordinated attack by reconnoitering the area around the Element's position. Element Snipers thwarted the enemy's initial attempt by eliminating two insurgents.
His funeral took place in October 12, 2006 at Fort Rosecrans National Cemetery in San Diego.  During Mike Monsoor's funeral, the six pallbearers removed the rosewood casket from the hearse, and lined up on each side of Mike Monsoor's casket, with his family members, friends, fellow sailors, and well-wishers. The column of people continued from the hearse, all the way to the grave site.
What the group didn't know at the time was, every Navy Seal (45 To Be Exact) that Mike Monsoor saved that day was scattered through-out the column!
After one completes the basic Navy Seals program which lasts for three weeks, and is followed by Seal Qualification Training, which is 15 more weeks of training, necessary to continue improving basic skills and to learn new tactics and techniques, required for an assignment to a Navy Seal Platoon.  After successful completion, trainees are given their Naval Enlisted Code, and are awarded the Navy Seal Trident Pin.  With this Gold Pin they are now officially Navy Seals!
It was said, that you could hear each of the 45 slaps from across the cemetery! By the time the rosewood casket reached the grave site, it looked as though it had a gold inlay from the 45 Trident Pins that lined the top! This was a fitting end to an eternal send-off for a warrior hero!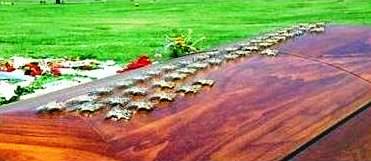 This should be front-page news!
I am proud of all the branches of our military..
PS  A new ship has been commissioned by the Navy and it is named the USS MICHAEL MONSOOR, in honor of this Navy Seal.